Takashi Sato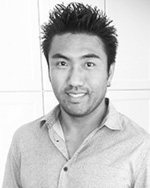 I was born into an entrepreneurial family in Yokohama, Japan.  My father owned several butcher shops and rental properties.  Through these businesses, he created wealth and a wonderful life for our family by providing a valuable service to the community. This was my first taste of what it meant to be an independent business owner. The responsibility, the dedication, and work ethic were permanently imprinted on me at an early age.
From an early age, practicing many different disciplines of martial arts and sports has been a part of my life.  I learned discipline and as I got older, I realized the importance of self-loyalty with morality rather than being loyal to brands, traditions, obligations or other pressures.
Unfortunately, when I was 7, my father had an aneurysm, and we almost lost him.  Since my mother had to take care of the businesses, I had to learn to be independent. I was a very unique thinker for a Japanese student.  I started questioning personal liberties in the Japanese school system and society as a whole.  That led me to the idea of moving to the U.S at the age 15.
I attended a small international boarding high school in Paradise Valley, AZ.  There were students from 24 different countries and that was the first place I experienced life outside of the Japanese culture.  This opened my mind to be more curious about people, different cultures, and different ways of thinking.
I explored my creative side at University.  As part of being in a BA degree program, I started to take photography courses.  This led me into a well-established local commercial photographer and launched my commercial photography career.
Facing life crises led me to take personal improvement and leadership programs where I learned concepts like having a true win – win scenario. By having these concept in mind and continuing with my self-improvement education, I started realizing my visions. That vision is to create businesses based on win – win, where people can seek a better life and operate from love, instead of fear.
My ultimate purpose in creating Clear Vision Investment Group, is to empower myself and others.  By creating strong cash flows, life style brands, educational opportunities and communities, we will be able to give people the opportunities to become self-aware. This awareness will be based in critical thoughts and a healthy lifestyle in all areas (mind, body, spirit, and wealth).  I believe in this way of life and want to share it with the rest of the world.
Regards,
Takashi Sato
Managing Partner
Clear Vision Investment Group
602.790.3160 | Direct
takashi@clearvisioninvestmentgroup.com