Rene Strinholm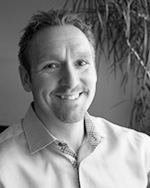 I was born in the farming community of Melfort, Saskatchewan where I learned the value of a hard day's work and small town family values. I came from a single parent home and was an only child. My grandparents played a big role in my life and will always hold a place in my heart for treating me like their son instead of a grandson, which meant the world to me.
My mother and I moved more often than most families as my mother was going to school for Nursing as well as finding ways to support us.  This made it hard to call any place home while growing up, though my mother always knew how to make a loving home for us. After completion of high school I moved to Winnipeg, Manitoba where I joined the Canadian Army Signal Core Reserves for eight years which took me across Canada and a bit of the US. I learned what I was capable of, along with teaching several courses including Basic Training. The draw of the mountains led this small town farm boy to where I am now, in Calgary, Alberta, where I take every free moment to enjoy the Rockies to their fullest.
After leaving the Military I spent 3 years Consulting with a Satellite Communication Provider offering communication systems to Oil/Gas, NGO's as well as Government/Military Agencies, I participated in the development of one of the first auto-tuning VSAT's for civilian use which was a very exciting time.  I attended SAIT to take Computer Programming and Computer Engineering Technologies, this was not for me.  My entrepreneurial spirit was soon after awakened and I partnered with others to open a furniture store.  After that endeavour, I started a very niche business importing and customizing specific vehicles from Japan for off-road use to fill a gap in the marketplace, this I am still doing to date.
The biggest defining/humbling moment in my life, that has led me to where I am now and my current vision, was my trip to Tanzania, Africa.  I was part of a group that raised funds to build classrooms and provide school uniforms to 543 children, allowing them to attend the school, (cost US$20.00/each) the average family only makes about $50.00/mth.  During that time I learned what it truly means, to me, to leave a legacy on this earth and that is as simple as empowering others so they can become leaders of themselves, as well as others.
I have taken this life lesson and applied it with CVIG, by empowering others to take control of their financial freedom and finding innovative ways to create mutually beneficial environments where all parties excel. This is how I envision leaving my legacy on this earth and I am excited to see what each new day brings.
Anytime I question my resolve, when the Universe throws me a curveball, I take the small stone out of my pocket, acquired from the top of Kilimanjaro, and I remember that anything and everything is possible.
Cheers,
Rene Strinholm
Managing Partner
Clear Vision Investment Group
403.461.7173 | Direct
rene@clearvisioninvestmentgroup.com