Cristina Archer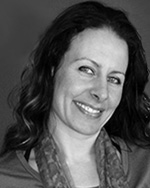 My parents immigrated to Canada from Italy in the early 70s and I was born and raised in Calgary. Shortly thereafter, my Mom opened an Italian Restaurant… this became my first job and business experience at the ripe old age of 4. I grew up in this restaurant and developed a true passion for food and cooking all while experiencing first hand what it takes to own and operate a restaurant.
And, although I loved being at the restaurant… growing up I always had a goals and dreams of my own. Aside from developing an appreciation for fine cuisine and cooking, I was always drawn to sports! My love for basketball led me to a position on the Mount Royal College basketball team while studying business administration.
However, in 1996, an opportunity to travel the world presented itself and I decided to leave school and go work for Holland America Cruise Line where I would receive the most valuable education imaginable… I spent 4.5 years working as an Assistant Cruise Director and traveled all 7 continents perfecting and honing my interpersonal skills all while seeing first hand parts of the world that most would only put on a bucket list. From the Nazca Lines of Peru to the Egyptian Pyramids, I was fortunate enough to experience great wonders and cultures with my very own senses.
Eventually returning home, I picked up a part time job at my local Starbucks and fell in love with this amazing coffee company where I worked my way up from an entry level Barista to District Manager for Starbucks in Calgary.
This journey has ignited a passion for people, a desire to better myself and those around me, and a mind that thrives on continued development and the study of leadership.
At present, I am now married to an amazing man who has inspired me to become an entrepreneur. To that end I have started a recipe website called Paleo Appetite where I share my passion for Paleo cuisine and cooking. This plays nicely into my active lifestyle as I eat a Paleo Diet and CrossFit, as well I continue to play basketball and football.
I am excited to be a part of CVIG and create liberty and abundance for myself and all the people with whom we do business. We have created a valuable win win service that allows for solid returns backed by cash flow real estate whereby interested parties earn cash on cash returns well above the average and at the same time provide quality housing for our tenants.
Regards,
Cristina Archer
Managing Partner
Clear Vision Investment Group
403.998.5829 | Direct
cristina@clearvisionrealtygroup.com